***mild spoilers ahead***
I've ranted and raved about the Heyer in which the heroine shoots the hero. How about the Heyer in which the heroine kidnaps the hero? Guys. I am ALL over that.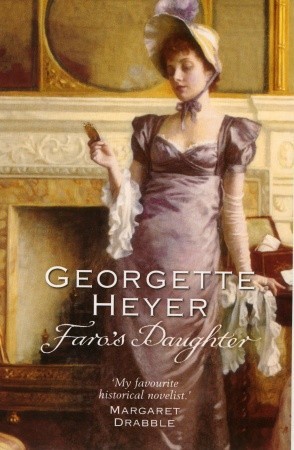 Faro's Daughter
by YOU'LL NEVER GUESS WHO
So let me set this raving and rambling post up: Miss Deborah Grantham has ended up – through no fault of her own – assisting her aunt in running a gambling establishment. There's a young lord – Adrian – who has fallen in love with her and the young lord's cousin – Mr. Max Ravenscar – who is determined to stop him from marrying Deb.
He meets with Deb Grantham. And in the process of doing this, He With The Suitably Wonderous Name (Ravenscar, people. RAVENSCAR) manages to thoroughly and completely offend her.
Deb Grantham – who was never even considering marrying Adrian – vows to make Ravenscar pay, by pretending to do the very thing. Because obviously that is the only option – nay! the only reasonable course of action.
She doesn't like Ravenscar. She detests him. If he were a slug, she'd dump a whole bag of salt on him.
"Oh, if I were a man, to be able to call him out, and run him through, and through, and through!"

Lady Bellingham [Deb's Aunt], who appeared quite shattered, said feebly that you could not run a man through three times.

"At least, I don't think so," she added. "Of course, I never was present at a duel, but there are always seconds, you know, and they would be bound to stop you."

"Nobody would stop me!" declared Miss Grantham blood-thirstily. "I would like to carve him into mincemeat!"
Miss Grantham, by the way, is quintessentially awesome. (Also, she is sort of falling in love with Ravenscar, but don't tell her that.)
Ravenscar has an incredibly low opinion of her – and makes it known. So Miss Grantham has …
A strong inclination to burst into tears accompanied these more violent ambitions, and was followed almost immediately by a resolve to punish Mr Ravenscar in the most vindictive way open to her, and a perfectly irrational determination to show him that she was every bit as bad as he imagined her to be, if not worse.
I am rubbing my hands together gleefully, folks. GLEE. FULL. Y.
WITH MANY OTHER THINGS HAPPENING TOO – a bet, a runaway etc etc … Ravenscar attempts to pay Miss Grantham off.
As you can imagine, it does not go down well.
Miss Grantham's scheme grows more and more outrageous – and hilarious. And it all culminates in one perfectly delicious series of events. (A KIDNAPPING!! A HILARIOUS KIDNAPPING IN A MANNER THAT ONLY HEYER COULD PULL OFF! I will leave you the following quote to whet your appetite:
'Will you have some more wine, sir?' asked Deborah, apparently conscious of her duties as his hostess.

'No,' said Ravenscar baldly.

'You are not very polite!' she said.

'I do not feel very polite. If you care to untie my ankles, however, I will engage to offer you my chair.'
My dudes, read this one. It's hysterical. It's witty. It's a romantic comedy with the best of them. An entire blacksmith's forge worth of sparks fly between the main characters. I love it – and you will too.
(ALSO THE HEROINE KIDNAPS THE HERO. DID I MENTION THAT?)