My second readolution is finished. The Three Musketeers was a hybrid read – I read about a third of it in paperback and finished the rest in ebook format. I know, I know. How terrible of me. I feel no guilt.
I have loosely watched the BBC adaption of The Three Musketeers and so had a mental image of some of the characters. It turns out that when I was reading and picturing Athos, I was actually picturing Aramis.
(Apparently, I'm quite good at mixing people like this – fictional or otherwise. I once spent an entire tennis match cheering for the wrong person. It was very confusing.)
Anyway, back to the recounting …
D'Artagnan is a) a playah and b) a victim of insta-lurve! At the same time. Dude.
How he meets the Musketeers is hilarious – he manages to offend them all, one after the other. Accidentally. He's also a little puppy like and you can't help but like him.
"I am at the age of extravagant hopes, monseigneur," said d'Artganan.
Oh. And he's also a Gascon. (A fact repeatedly mentioned.) Did anyone picture the below when Gascon was mentioned? (Yes, I know – there is a difference between a Gascon and Gaston. But still …)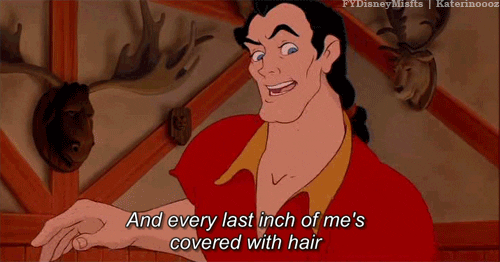 Porthos … ah, Porthos. He's brash and vain, but he can maintain a silence. A majestic silence. No. Really. He can:
Porthos maintained a majestic silence.
… anyone who can do such a thing has my respect.
Aramis is torn between the church, his one true love and the possession of a handkerchief.
Athos is my favourite musketeer. He's rather cool.
Athos listened to him without a frown; and when he had finished, said, "Trifles, only trifles!" That was his favourite word.
He has a favourite word! (Mine isn't 'trifles' but I'll overlook our differences.) He's haunted by a troublesome past, can barricade himself in the cellar of an inn with style and is the musketeer closest to d'Artagnan.
Milady … my word, she was such a good villain. She saw opportunities and she grabbed those opportunities and cast such petty things as morals and conscience to the wind. Villains – female villains – of her ilk you don't often see.
Favourite Chapters
Chapter 26 'Aramis and His Thesis' is brilliant. D'Artagnan arrives to find Aramis about to enter the church, in the company of a curate and a Jesuit. Sheer. Gold. The curate pretends to know Latin and just echoes it after the Jesuit, whilst d'Artagnan is just like 'Wha-?'
"See what an exordium!" cried the Jesuit.

"Exordium," repeated the curate, for the sake of saying something. "QUEMADMODUM INTER COELORUM IMMNSITATEM."

Aramis cast a glance upon d'Artagnan to see what effect all this produced, and found his friend gaping enough to split his jaws.
Chapter 47 'The Council of the Musketeers' is awesome. Basically the heroes need to have a chat but the cardinal has eyes and ears everywhere. Their solution? Simples. Make a bet that they can have lunch in the middle of some sort of no man's land. The cardinal won't suspect a thing.
So they're in the middle of Serious Discussions and all the while they are under fire and have to oh so casually fight for their lives whilst eating lunch and plotting.  And they say women are the best multitaskers …
Chapters 63, 64, 65 and 66 – AKA the Ending. The whole thing. As I was with How to Train Your Dragon 2, I was shocked – shocked! – when a character died. I honestly thought that they were still alive until they were either burned or buried. It was then that I realised that they were dead. Not comic book dead. But dead dead.
In short: It took a while for me to get into this book, but after it got moving? It was such great fun.
Two readolutions down, an attempt on Dickens is next …