*** Avast ye! LOTS OF MANDATORY PIRATE TALK. There be slight spoilers ahead. Arrgh***
As time as gone by, I've found my feelings about the book become more 'meh-ish'. One of the plot lines left me feeling vaguely disappointed – as if someone had promised me a huge heaping of ice cream and I'd been given a block of cheese instead.
Now I like cheese (Not blue cheese. Blue cheese is evil), but when you're anticipating ice cream … it isn't quite the same thing.
THE PLOT
I've always liked Peter Pan because there's something swashbuckling about him, and also he wears the Lincoln green of Robin Hood. So there's that. However, what if Peter Pan was the villain? What if Captain Hook has been cursed to play the villain in an eternal, pointless war for a group of malicious little boys?
HOOKED ON RESPAWNING
(did you see what I did there? *wink wink wink*)
Hook cannot die. Well, he can. But he can't die die. (There is a difference.) Like a video game character, he respawns. He has been slain by Peter Pan and his lovely group of boys countless times. I liked this (I assure you, I am no sadist.) It makes for a truly interesting character; a character who has died over and over, who knows the part he has to play, who has the lines all rehearsed, and who is utterly sick and Very Done with it all.
No one has ever cried for me before, not the Wendys, nor generations of Lost Boys, nor any of the children to whom the story is so often told.

They always cheer when Hook dies.
THE PAN IS A PAIN
Peter Pan is evil. There. I said it. And Peter Pan does not receive the comeuppance I wanted for him. In fact, his actions – thoughtless and lacking in knowledge of this is bad don't do it – are hideous. It's the very lack of awareness of the wrongness of his actions that is so chilling.
And he doesn't get what's coming to him. It's sort of brushed off. This did not please me. I was the opposite of pleased.
HOOK, STUCK IN A GROOVE
Hook has been stuck in Neverland for two centuries – he's tried everything in an attempt to leave, with no success. But oh wait, he hasn't. It takes the arrival of Stella Parrish (GASP SHE IS A WOMAN GROWN!!!) to send events into a new direction. What I couldn't understand was this: if you have two hundred years to think of plots and plans to leave SURELY YOU WOULD HAVE THOUGHT OF NEW AND VARIED PLOTS!!

Now granted, if it was me stuck in Neverland (PLEASE NO) for centuries, yes – this would be a likely scenario. My brother says (to paraphrase) that I'm not lacking in intelligence – it's just that I don't use it. The obvious questions are never obvious to me. I have 'The Blindingly Obvious Blinders' on. It's tragic.
But this is Captain James Benjamin Hook who actually is a pirate. Who has sailed the world. Surely, surely he would not have such blinders on. Surely he would ask more questions and not just settle into a groove that is LITERALLY KILLING HIM.
But he isn't, and he is.
And this frustrates me.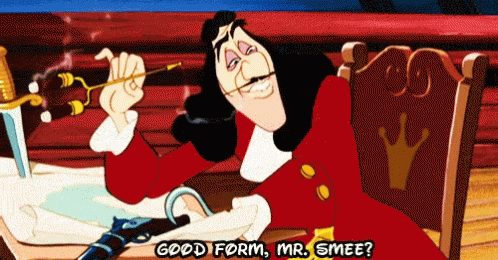 TO SUM UP BADLY
In short, Alias Hook is a new, extremely intriguing take on the world of Peter Pan. Jensen has woven a terrible mythos into Neverland, and formed Captain Hook into a character you can truly sympathise with.
The book is definitely not Young Adult – there is language (well, of course there is. But y'know what I mean) and the Fairy Revels are … ah-hem … are not Young Adult. At all.
I liked the ending and the idea of Hook having to play the part of a villain. However, I found Neverland to be claustrophobic (as I'm sure Hook did) and Peter Pan should have been flayed alive by malicious pineapples probably.
Thank you and goodnight.