When I was a youngling, I daydreamed excessively; in my dreams I was extremely clever and I had secrets – world-changing, mind-blowing secrets. I could give the best, most convincing comebacks, break into sudden ninja skillz, and do daring deeds that would leave grown men gaping in my wake.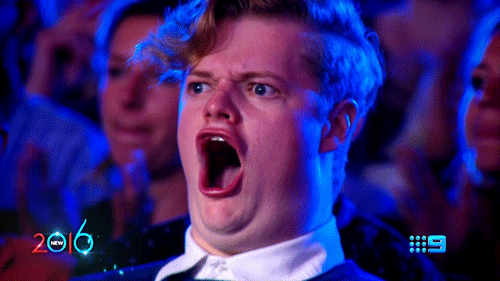 I'd do all of this without repercussions. One doesn't really think of real world consequences when you're in a delicious daydream, fixing a tragic moment of fallibility in your life.
Par example, when my family was introduced to a new church; instead of retreating into my blue coat when the microphone was shoved in my face and whispering my name …
… it would go a little differently. The pastor would ask my name. I'd stand straight and tall. 'You want my name?' my attitude would say. 'THIS IS MY NAME!!!' and at the end of the aisle, the church doors would slam open, and in would pour an entire troop of animals enough to make a zookeeper weep.
It's important to note that my daydream was conspicuously absent of:
animal droppings
outraged animal rights activists.
the screams of horror from churchgoers who just wanted to hear some preaching (was that too much to ask?!!)
When you've spent half your life with your nose in a book and your head in the clouds, your sense of proportion, social settings, and – alas, to my cost – brain-to-mouth filter sometimes malfunctions.
Take my last, most monumental gaffe, for instance. I'll share it here. You can probably feel the echoes of my disbelief from where you're sitting.
LAST MONUMENTAL SOCIAL GAFFE:
I can't remember the mood I was in when I turned up to my driving test, but it must have been quite something.
My examiner reminded me of a TV character and I really quite liked him – he sort of set you at ease. I didn't do quite the same service to him.
He introduced himself pleasantly with a 'My name is N—, what can I call you?'
Usually, I would have said my name and included a nice and pleasant: 'nice to meet you." Usually, I managed to function as an adult. That day, I did not.
I didn't say my name. I didn't plead for a pass. Oh no. My brain saw OPPORTUNITY written across the sky in big, multicoloured letters.
It saw opportunity. It took that opportunity. I opened my mouth:
You may call me Lord and Supreme Dictator of the Universe
Nowadays, I try to rein myself in a little; try to fix the ol'brain-to-mouth filter. Be a little mature. Realise you can't just blurt anything out – even if you think it's the pinnacle of humour. This works sometimes. But now and again, every so often, if a customer asks how my day has gone, I find myself answering:
"Well … the zombie apocalypse hasn't happened yet, so it's been pretty good, thank you."
(They often seem bemused. I, on the other hand, am always enormously impressed that I – a bookworm – can pronounce 'apocalypse' correctly.)