Some books and I get on very nicely; if they were a person, we could have tea and crumpets and bemoan the weather together quite cheerfully. I didn't like Wintersong. There will be no tea and crumpets.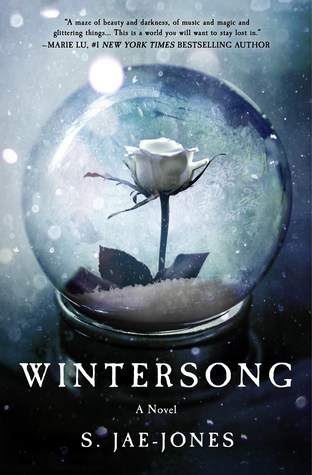 Liesl likes to compose but her dreams in that direction are fading. But then her sister gets nabbed by the Goblin King and Liesl must save her. She does so, but runs smack into Angst! True love! (And dishes of eyeballs.)
SOME POSITIVES
Jae-Jones is a talented writer and can turn a phrase quite nicely.
The front cover is excessively pretty.
I liked the feel of the book. The font was a nice size and the spine was lovely and soft, but not too soft.
The ending, Liesl was able to take a stand as her own person. Huzzah for character growth.
LIESL NEEDS VALIDATION
Whether it be from her family, or the Goblin King himself, Liesl looks to others for validation; for her worth.
Yes, in the end, Liesl is able to walk away …
Elisabeth, entire.
… which is brilliant, but the path to her arriving at such a conclusion was fraught with looking to others to validate her worth. I thought this to be odd. For you see, it's really best not to look to others in order to best view ourselves.
Like, no. Find your own mirror.
THE SETTING WAS NOT MINE SCENE
I didn't like the Underground. The very idea of being stuck underground is an awful, no good thought. If there was a choice of: 'would you like to go to the Underground Kingdom which is full of ILLUSIONS!!! And goblins and dishes that look nice but are actually eyeballs and lots of gothic weird and wonderful things OR paint a country house in the shade of eggshell from top to bottom' I would choose the country house.
(I hate painting. And country homes are huge. And their ceilings are massive and, being no Michelangelo, I loathe painting ceilings. I'd still chose it though. Every time.)
THE ROMANTICLE ROMANCE
The Terrible Sorrow, Pain, and Heart-Wrenching Love that Surpassed All Others was 'meh'.
I'm sorry. I didn't get it; I did in that I understood the plot, but my emotions were never invested or in danger of sending streaming rivers from my teary ducks.
WRONGLY FILED
Look, unless YA fiction has greatly changed whilst I wasn't looking (which is possible. I look away for long periods of time), I think this book is in the wrong category/genre. There are scenes that shouldn't be classed as Young Adult. New Adult – yes. Mills and Boon – that too. But Young Adult? No. Nope. IS THERE NO INNOCENCE LEFT IN THIS WORLD?
THE OTHER MEMBERS OF THE CAST
… were selfish and horrible and unlikable. The sister. The brother. The parents. All of 'em. Apart from the Goblin King. Maybe. I can't remember – I was going to reread this book, just to make sure but after deep thought and momentary reflection, I decided … nah. Life is too short.
TO CONCLUDE
If you've read Wintersong and enjoyed it … than that's wonderful. I'm pleased for you. But as for me? No. I didn't like it. And that's okay too. It's good to have differences of opinion and books you don't like. If we all liked the same thing, why, the world would be an astoundingly boring place.
In the future, if I ever feel the pressing urge to read about goblins, I shall pick up The Hollow Kingdom.
But take a character I didn't much like, pop her in a setting that depressed me, add in a huge dollop of romance that felt more 'meh' than a cardboard sandwich, and we find ourselves with a book that simply wasn't my cup of tea.
Thank you and goodnight.